(Psst: The FTC wants me to remind you that this website contains affiliate links. That means if you make a purchase from a link you click on, I might receive a small commission. This does not increase the price you'll pay for that item nor does it decrease the awesomeness of the item. Linda)
Did you know that you can make diabetic dog treats for your dog with diabetes? Soon she will be able to enjoy delicious dog treats again!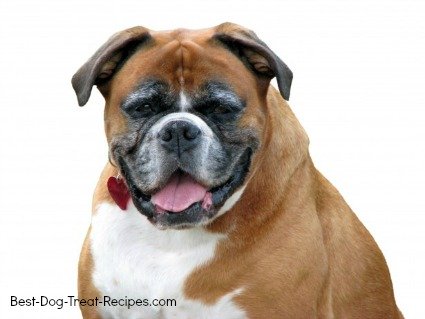 Some of my recipes call for unbleached flour.
Since a diabetic dog diet should have whole grains whenever possible, simply substitute oat flour, whole wheat flour or barley flour for the unbleached flour in the recipe.
If you substitute whole grain flour for the unbleached flour, the dough will be stickier.
Using a recipe that tell you to roll out the dough?
Simply sprinkle the dough with flour, place it between two sheets of parchment paper, and you're good to go…
Foods that Help Diabetic Dogs
In addition to being careful about the ingredients that you use in your diabetic dog treats, you should also keep your dog treats on the small side.
Dog diabetes is linked to dog obesity, and keeping your dog's weight down, will help you keep her diabetes under control.
Healthy Ingredients for Dogs with Diabetes
In general, you'll want to choose ingredients for your homemade dog treats that are low-glycemic. Carbohydrates should be complex, and you should avoid using sugars, including artificial sweeteners and healthy sugars like blackstrap molasses.
Diabetic dogs should have lots of fiber in their diets, because fiber slows down digestion and helps keep blood sugars balanced.
Here's a list of dog treat ingredients that you can include in your diabetic dog treats recipes:
Whole grain flours – White flour tends to be digested quickly, and it lacks the nutrition that your dog needs. Choose whole wheat, barley or rye flour over unbleached white flour.
Meat and fish
Eggs
Raw seeds like sesame seeds or sunflower seeds
Bran for roughage – oat or whole wheat
Brewers' yeast – aids in balancing blood glucose
Beans – complex carbs that can actually reduce the need for insulin medications. They stabilize blood sugars.
Peanut butter – keeps blood sugar under control and the fat makes your dog feel satisfied and not hungry
Pumpkin – increases the level of insulin in the blood and decreases blood sugar
Carrots – Recent studies (University of Minnesota) have shown that carrots may actually prevent diabetes.
Apples and applesauce
Flaxseeds
Cinnamon – increases metabolism, helps keep blood sugar under control after meals.
While you do have to be careful when you make home-made dog treats for your diabetic dog, as you can see, you do have quite a few choices for ingredients.
And you'll find that, if you choose healthy diabetic dog treats recipes, your dog's diabetes will be easier to keep under control.
Articles about Diabetic Dogs