(Psst: The FTC wants me to remind you that this website contains affiliate links. That means if you make a purchase from a link you click on, I might receive a small commission. This does not increase the price you'll pay for that item nor does it decrease the awesomeness of the item. Linda)
A Good Investment in Your Baking Future!
Kitchen tools for dog treats is one area that you should not skimp on, whether you are starting a pet bakery or just baking for your own dog. There are several good reasons for this.
Just as in any other business, investing in good tools and equipment will save you time, money in the long run, and lots of frustration.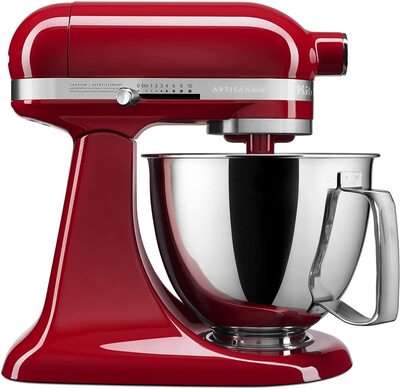 Quality kitchen tools make baking a breeze, and, because you won't have to keep replacing them, they are a good value—even if you have to pay a little more up front.
When equipment breaks in a business setting, down time costs money, because your production line comes to a halt, until the equipment is repaired or replaced
Having a quality heavy duty mixer like the Kitchenaid Artisan mixer will make your life a lot easier! The one at the left is the 3.5 quart mini model.
What are the Essential Tools You'll Need?
Here's a list of kitchen tools for dog treats that you may need:
Small Equipment
Baking Pans for Dog Treats
Kitchen Tools for Cut out Dog Cookies
Tools for Cutting out Treats
Other Tools You Might Like
Make Dog Treats Easy!
Tools for kitchen and gadgets for baking, simplify homemade dog treats, making them fun and easy, for even a beginning cook!
Just like any other project around the home, having the right baking tools makes all the difference between a slipshod job and a professional one!
It really doesn't matter if you are a beginner dog treat baker or you are starting your own dog bakery. You still need the right tools for kitchen use, to make the job quicker and easier.
It's a secret that professional chefs have kept for years—your kitchen tools and gadgets do half the job for you!