(Psst: The FTC wants me to remind you that this website contains affiliate links. That means if you make a purchase from a link you click on, I might receive a small commission. This does not increase the price you'll pay for that item nor does it decrease the awesomeness of the item. Linda)
For Dehydrating Dog Treats
The best food dehydrator for making chicken jerky for your dog or for dehydrating dog treats depends mostly on how you plan to use your food dehydrator…
If you are buying a food dehydrator strictly for dehydrating your homemade dog treats, the best dehydrator for you will be different from the dehydrator for someone who plans to use it to make jerky and dry vegetables from their garden for their family.
How to Choose the Best Dehydrator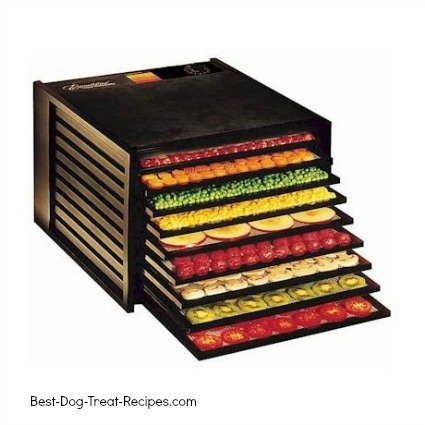 There are a number of factors to consider when choosing the best food dehydrator for you, including how much you will use it, and how you will use it…
The capacity of this Excalibur model makes it the best food dehydrator for a dog bakery or heavy use.
How Will You Use Your Food Dehydrator?
People buy food dehydrators for different reasons. Here are the most common:
Make Chicken Jerky for Dogs
After the recalls of dog chicken jerky from China, many people concluded that the safest way to give their dogs chicken jerky, is to make it themselves. And it is really easy!
Dehydrate Dog Treats
You can use your food dehydrator to finish off (completely dry) your homemade dog treats, or you can use it to do the whole job, eliminating the baking step in your oven. Dehydrate them overnight, and they are finished in the morning when you awaken!
Camping
Ever bought expensive dried foods to take camping (no refrigeration)? With a food dehydrator, you can make your own dried foods and combine them to make dried meals for camping. You'll save an incredible amount of money this way, and you'll avoid added chemicals, etc.
Preserve your Garden Produce
Whether you freeze your extra garden vegetables or can them, there will come a time when you run out of freezer space or canning jars.
Drying vegetables and herbs is so much easier, and you don't need refrigeration to keep them. Dried veggies are wonderful when you are making soups or stews. Just grab a few and throw them in.
I love the ease of using dried vegetables!
Hikers and Bikers
Dried fruit leathers and fruit and trail mix made with dried fruit, make perfect backpack snacks to keep up your energy when hiking, biking or snowshoeing.
Preppers
If you are putting away a large amount of food for a rainy day, dried fruits and vegetables take up a very small space compared to other methods of preservation. They last for a good while, and they do not require energy to keep them.
Crackers, Corn Chips, Granola and Flat Breads
Use a food dehydrator to make your own homemade crackers and flatbreads. You'll never go back to store-bought ones!
Craft Projects
Last but not least, many people use their food dehydrators for crafts. You can make really cool dough items, Christmas ornaments and other craft projects in a dehydrator!
What your Dehydrator Should Include
So which features make the best food dehydrator? Here are some to look for:
Trays – How many trays are included? Can you purchase more if you want them? What are the trays made of (plastic, stainless steel)?
Tray accessories – Does the dehydrator come with sheets to make fruit leather? Can you purchase them? How about screens for fine items like herbs?
How easy is it to clean? – Are the trays dishwasher safe? Top or bottom of the dishwasher? Are they easy to clean by hand?
Drying space – How much drying space do you get? This determines how many dog treats or vegetables you can dry at a time.
How easy to use? – Does the dehydrator come with an instruction book?
Temperature control – Does it have one?
Timer – A nice feature, depending on how you will use your dehydrator.
On-off switch – Is there one? ..or just unplug it. You may or may not care.
Size and weight – How big is it? Will you store it on the counter in the kitchen, or will you have to carry it to a storage area?
Fan – Is there a fan and where is it located? Depending on where the fan is, you may have to rotate the shelves during the drying period.
Of course, there may be other features that are important to you. But this should get you started to finding the best food dehydrator for your family. My personal favorite is still the Excalibur Dehydrator with 9 trays.
If you would like to learn more about dehydrating, this is a good resource: The Dehydrator Bible: Includes over 400 Recipes.
Models with the Best Food Dehydrator Reviews
The following models on the current market are the most popular, with the best reviews. If you're in the market for a dehydrator, why not take a look at them and consider the features we discussed above?