(Psst: The FTC wants me to remind you that this website contains affiliate links. That means if you make a purchase from a link you click on, I might receive a small commission. This does not increase the price you'll pay for that item nor does it decrease the awesomeness of the item. Linda)
Dog treat icing can transform a plain dog cookie into a special gift or a bakery dog treat that you can charge several times more for…
Of course dog icing is not just the frosting on the cake (so to speak), but it is what makes one dog cookie stand out from another.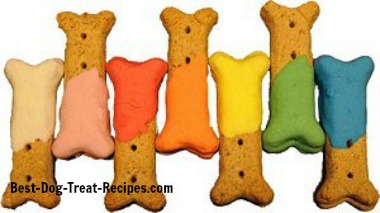 Dog cookie icing can make your homemade dog cookies distinctive! The dog treats that people tell each other about…
Now, if you're thinking that you are all thumbs when it comes to fancy desserts, relax…
Decorating dog treats can be really simple, even though the results LOOK really cool and complicated.
All you need are some safe dog treat ingredients (more on this below) and a little imagination. You can do this!
These dog bones were made with a dog treat icing mix.
To get ideas on how to decorate dog cookies, look online to see how some of the dog treat bakeries (and people bakeries) are decorating their cookies and cakes. Look at them closely, and you'll see that many of the designs are actually quite simple. They just look tricky!
Ingredients for Dog treat Icing
Choosing dog-friendly ingredients for your dog frosting is just as important as choosing safe dog treat ingredients for your home-made dog treats.
Here are some of the ingredients that are often used in dog icing:
Yogurt
Use plain yogurt or Greek yogurt, not the sugary flavored yogurts with fruits.
Cream Cheese
Cream cheese can be used as a base for your dog icing. It gives your icing some structure. After frosting your dog cookies with cream cheese, they should be refrigerated.
Cottage Cheese
Whip it in a blender or food processor to make it smooth. Just like cream cheese, it adds structure and form to your icing. And it should be refrigerated, as well.
Carob
Carob powder gives icing a chocolate-like flavor and a natural sweetness. Use carob as a substitute for chocolate, which you should NOT give to your dog.
Peanut Butter
Peanut butter is one of the all-time favorite flavors for dogs. Almost every dog loves peanut butter! You can use smooth or chunky (harder to spread). I like to use organic peanut butter without sugar.
Egg Yolks
Combine beaten egg yolks with some food coloring (can be liquid, paste or gel) and you'll have an "egg wash". If you spread this on your dog cookies before baking, your dog cookies will have a light color and they will be shiny.
Mashed Potatoes
I prefer to use real mashed potatoes, to avoid the chemical in instant mashed potatoes, but you can use either. Mashed potatoes give you a moister icing, that does not dry hard, and the cookies should be refrigerated until serving.
Arrowroot Starch
This is a safe alternative to using cornstarch, which is almost 100% likely to be GMO (genetically modified) and harmful to both people and dogs.
Bananas
Bananas are another popular flavor for dog treats and icing.
Tips for Decorating Dog Treats
Soft or Hard Frosting?
Your choice of icing will depend largely on whether you want your icing to be soft or hard.
Soft dog treat icings, like mashed potato icings, usually need to be refrigerated, and they will eventually soften the dog treat.
Hard icings like royal dog treat icing, can be packaged for gift giving, and they can be sent through the mail.
Use only Safe Ingredients for Dogs
It's fun to be creative with dog treat icing, but make sure that you use ingredients that are safe for dogs. No salt or sugar Dogs don't need salt or sugar (including honey) in their icing, so don't use them, if possible.
If you can't keep them out, make your dog cookies small or use just a little dog icing on parts of the cookies, instead of totally coating them.
Don't use Artificial Sweeteners
Artificial sweeteners can be harmful to dogs. Xylitol, in particular, can actually be fatal to dogs. Don't be tempted to use sweeteners because you like your icing sweet. Your dog will never know the difference!
Use Sprinkles
An easy way to dress up your dog treats after you have coated them with a layer of icing is to use some form of sprinkles. Try using:
Chopped peanuts
Bacon bits
Sesame seeds
Poppy seeds
Grated carrots
Chopped apples (mix with a little lemon to keep the apples from browning)
Chopped meat (chicken, beef, etc.)
Kibble that has been chopped into little pieces, in the blender
Decorating dog treats can be almost addictive. It's so much fun, that you'll find yourself doing it, again and again! And wishing that you had tried frosting dog treats sooner!