(Psst: The FTC wants me to remind you that this website contains affiliate links. That means if you make a purchase from a link you click on, I might receive a small commission. This does not increase the price you'll pay for that item nor does it decrease the awesomeness of the item. Linda)
Homemade dog treats have become all the rage. But, if you live a busy lifestyle, is it worth the effort to make your own dog treats?
A lot of people think so. And they have a number of good reasons for making their own dog treats. But, you'll have to decide for yourself…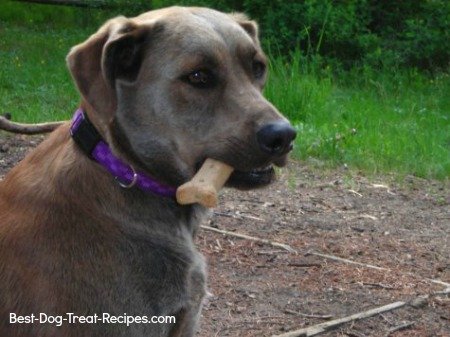 Not Just Dog Treat or Dog Food Recalls!
Probably the #1 reason that people make homemade dog treats, is because of all the recalls for unsafe commercial dog treats.
In addition to all the chemicals and additives in commercial dog treats, quite a few have been tainted with salmonella, listeria or other harmful substances. And a number of dogs have become ill or even died.
Safety
You can choose ingredients for your homemade dog treats that are safe for your dog to eat. No fillers. No additives. No meat by-products made of body parts that you can't identify.
Special Needs
Many dogs have medical conditions that require a special diet. Dog treats that conform to your dog's diet may be difficult, or impossible to find.
If you make your own dog treats, you will be sure that the treats meet your dog's dietary requirements.
Cost of Homemade Dog Treats
The price is right, for homemade dog treats! Since you control the ingredients that you use, you also control the cost. Even using the best and freshest ingredients, will cost less than buying comparable dog treats at the store!
Nutrition
Your dog treats will be as nutritious as you want them to be. And, if you'd like, you can even add supplements like brewers yeast, bone meal or kelp to your home-made dog treats.
Flavors
Ever try to find that special flavor that your dog loves best? With your own dog treats you can give your dog what she loves best, whether it's pumpkin, peanut butter or carob.
Don't waste your time looking for hard to find pet treats. Now you can make them at home!
Gift Giving
Giving homemade dog treats as gifts is also quite popular.
A bag of dog treats from the store isn't all that special, but people love and rave about dog treats that you have made yourself.
And, even nicer, the dogs love them too!
For the Fun of It!
Most dog treat recipes are really quite easy. But, even more important, they are fun to make.
And, speaking from experience, once your dog has figured out the baking process, she'll be by your side, from start to finish—every time you start baking (whether it's dog treats or not).
I think that it is safe to say that, when you have learned how to make homemade dog treats (and it's not hard), you won't go back to buying them for your dog.
I've given you simple step-by-step directions, so that each dog treat will be easy to make. Enjoy my recipes, and have fun making your own dog treats!