(Psst: The FTC wants me to remind you that this website contains affiliate links. That means if you make a purchase from a link you click on, I might receive a small commission. This does not increase the price you'll pay for that item nor does it decrease the awesomeness of the item. Linda)
This fire hydrants dog cookie recipe includes whole grains and bits of beef for dogs that love the flavor of beef. Make the dog cookies plain for everyday treats, and decorate them to use as gifts or for special occasions.
What can you say about fire hydrants? They're just…well, all dog!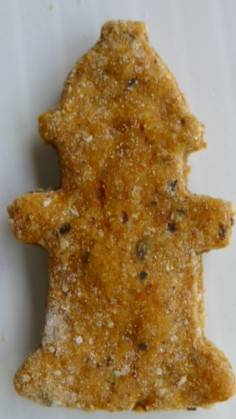 Fire Hydrant dog cookies without icing.
These cute little dog biscuits are fun to make, and they are sure to be a topic of conversation when you take them to events or give them as gifts!
Fire hydrant homemade dog treats make great gourmet dog party favors, too.
Place a couple in cute cello bags for dog treats, for the party guests to take home with them, as a fun reminder of your dog party.
Dog treat icing on your dog's fire hydrants gives them a whole new look!
Fire Hydrant dog treats are made with all natural ingredients and flavored with beef broth and beef chunks for the manly beefeaters in the crowd!
Cornmeal and soy flour add protein to the treats, and olive oil supports your dog's healthy heart.
Ingredients for Fire Hydrants Dog Cookies
2 cups whole wheat flour
1/2 cup unbleached flour
1/2 cup cornmeal
2 T. oat bran
2 T. organic soy flour
1 1/2 tsp. dry yeast
1 T. beef bouillon or beef base
1/2 cup cooked beef, chopped into little pieces
1 cup water
1/4 cup olive oil
Directions
Place all the ingredients in your bread maker.
Use the dough cycle.
When the dough is ready, remove it and divide it into 3 equal portions.
Roll the dough, using a non-stick rolling pin, into 1/4" sheets.
Cut the cookies with a fire hydrant cookie cutter, dipping the cutter into a bowl of flour in between each cut. This keeps the cutter from sticking to the cookie, and makes your life a lot simpler!
Place the cookies onto a greased cookie sheet or an ungreased silicone baking mat.
Let them rise for about 45 minutes.
Bake the cookies for about an hour at 275 degrees F. Check to make sure that they don't get too brown!
Turn off the oven and let the dog treats finish drying overnight. If you have a dehydrator, you can finish drying the dog treats by dehydrating them for 2-3 hours in your dehydrator.
You can store these cookies, as long as they are thoroughly dried and hard, at room temperature in your Fire Hydrant Ceramic Cookie Jar, for several months.
If you need to store them longer, place them in an airtight food storage container in the refrigerator or freezer.