(Psst: The FTC wants me to remind you that this website contains affiliate links. That means if you make a purchase from a link you click on, I might receive a small commission. This does not increase the price you'll pay for that item nor does it decrease the awesomeness of the item. Linda)
Personalize your Dog's Cookies!
Make this anise dog cookie recipe in the shape of your dog's breed watch her go crazy with the tantalizing taste and smell of anise.
And, if you use my recipe below, you control the ingredients and can make sure that your dog gets only all natural ingredients in his dog treats!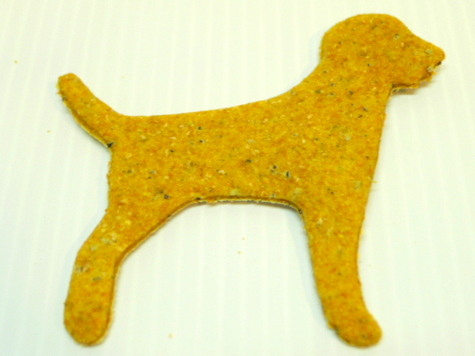 When I make these yummy dog cookies, I like to grind the anise seeds in my coffee bean grinder to help release more of that luscious flavor.
An extra benefit of doing it this way is that the next time you make coffee, it has a delightful anise flavor.
However, if you don't have a coffee grinder, the recipe still works just fine, using whole anise seeds.
Dogs love anise so much that it definitely is worth the effort to bake some anise dog treats for your pet.
If you are not familiar with anise, it is a spice that is often used in Italian cookies like Pizzelles or in Chinese dishes. Anise comes in powder form or whole seeds.
This dog cookie recipe calls for the whole seeds, because aniseeds keep their characteristic flavor better if the seeds are whole.
But, if you prefer, you can grind the seeds into powder (like I do), and you'll have full flavor, without the little seeds in your dog cookies.
Don't have a dog cookie cutter? There is a nice selection of dog breed cookie cutters here at Amazon.
Ingredients for Anise Dog Cookies
1 cup water
1/4 cup olive oil
1 1/2 cups whole wheat flour
1 1/2 cups unbleached flour
1 1/2 tsp. dry baking yeast
1/4 cup oat bran
1 tsp. cinnamon
2 T. anise seeds
Directions
Place all the ingredients in your bread machine in the order suggested by the manufacturer.
Set the bread maker to the dough cycle.
When the dough is ready, divide it into 3 equal portions. This makes it easier to handle.
Using a palm held pizza cutter, roll the dough into a sheet that is ¼" thick.
Using a dog breed cookie cutter, cut out the cookies. The cookie in the photo is approximately 3 ½" x 3 ½". Depending on the size of your dog, you may want to make larger or smaller cookies.
Place the cookies on a lightly greased cookie sheet or an ungreased silicone baking mat.
Bake the cookies at 275 degrees F for about an hour.
Turn off the oven and let the cookies continue to dry, in the oven, overnight. If you have a dehydrator, you can finish drying the cookies by placing them in your dehydrator for 2-3 hours.
These cookies can be stored in your favorite dog cookie jar ( This Fire Hydrant Ceramic Cookie Jar is one of my favorites) for several months or in an airtight food storage container in the refrigerator or freezer for a year. But my guess is that they won't last that long!