(Psst: The FTC wants me to remind you that this website contains affiliate links. That means if you make a purchase from a link you click on, I might receive a small commission. This does not increase the price you'll pay for that item nor does it decrease the awesomeness of the item. Linda)
Easy Dog Icing for Dog Cookies
Royal icing mix is the way to go, if you want to decorate your homemade dog treats the easy way!
Using royal icing for your homemade dog treats has a number of advantages. Royal icing dries hard and stays hard, will not crack, and it won't melt, even when it's really hot outside.
That makes this easy royal icing the perfect kind of dog treat icing to use in your dog bakery or for dog treats that are gifts, especially if you will be shipping them.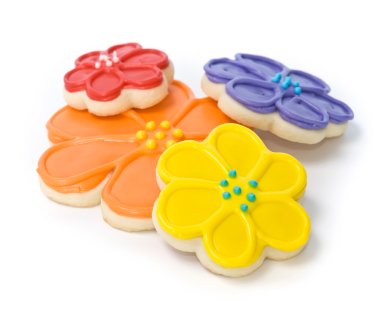 Why I Use a Royal Icing Mix for Dogs
A couple of years ago I discovered an easy way to decorate dog cookies. I started using a mix for dog treat Royal icing.
The icing is high protein, sugar free and fat free, so I don't have to worry about Skipper's teeth or weight.
Making Royal icing with this mix is super easy. You just add water, stir and start icing your dog cookies. You can make the frosting thick or thin, depending on how you will be using it.
Royal icing is perfect for coating dog cookies.
One thing to remember when you want to decorate dog cookies, is to make sure that the dog treats are completely dry.
If they are not totally dry, the Royal icing will harden, but the dog treat will continue to dry at a different rate under the icing. The result can be stress cracks, which will ruin all the work that you have done.
As a precaution, always make sure you dehydrate your dog treats or leave them in the oven (oven off) overnight after baking them, to finish the drying process!
Why Royal Icing?
Royal icing is used by professionals to decorate their cakes and cookies because:
The icing can also be thinned so that it can be used to cover a cookie (or serve as the background for other decorating).
Pure white, it takes on coloring beautifully. I like to use a gel paste or food coloring powder.
Dog cookies made with Royal icing can be stacked.
When frozen, the icing does not separate.
Dog treats frosted with this icing, will keep up to a year.
Using dog treat icing is a fun and easy way to really "dress up" your homemade dog treats! And, because of its hardening and keeping qualities, Royal icing from scratch is a great choice for decorating homemade dog treats as long as you only use small amounts of icing on each cookie.
However, while home-made royal icing is mostly sugar, the Royal icing mix for dogs that I use, is made of natural ingredients and super quick and easy to use!