(Psst: The FTC wants me to remind you that this website contains affiliate links. That means if you make a purchase from a link you click on, I might receive a small commission. This does not increase the price you'll pay for that item nor does it decrease the awesomeness of the item. Linda)
A football dog treat will put the finishing touches on your Super Bowl party snacks menu, and it will keep your Best Friend occupied so that she won't be tempted to help herself to YOUR party treats.
These yummy anise dog cookies were created for a Super Bowl party, but they will be welcome during any seasonal game or football party.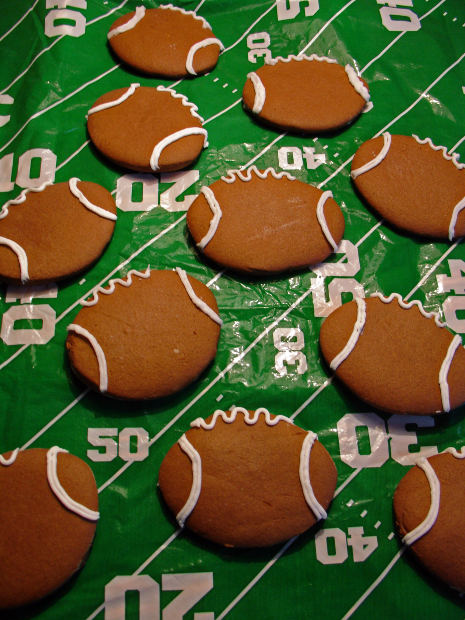 The little footballs are cute and novel, and they will be a topic of conversation for your next get together!
The football cookies that you see in the photo, each measure about an inch across.
Because of this, you can serve them to any size dog without worrying that he is getting too many calories or that the dog treat is too big for him.
They're even good for overweight dogs who are on a diet!
One of the most important ingredients in my football homemade dog biscuits recipe is whole anise seeds. (You can substitute anise powder in a pinch.)
Dogs just LOVE the smell and flavor of anise cookies!
Perhaps the most difficult part of making this recipe was finding a cookie cutter that would give me the right shape.
I found a small cookie cutter in an assortment—it was just an odd one that they threw in with a Christmas holiday theme grouping. The cookie cutter was supposed to be a light bulb (for a Christmas tree), and it was almost football shaped.
The cookie cutter worked just fine because, when the dough rises the shapes move around a bit anyway, and it kind of forms the right shape.
Now, however, you can buy football cookie cutters on Amazon.
Tips to Make your Football Dog Treats Easy
Originally, I used an icing bag with royal icing to put the lacing on these footballs.
The royal icing that I used then, was made from a recipe for people. It didn't stick to the cookies as well as I would have liked, and the icing bag was difficult to control;.
So I suggest that, if these are for a dog bakery that will be shipping orders through the mail or by UPS, they won't ship well if you decorate these dog treats the way I did then. The little lacings will fall off the cookies.
There are some easier (and better) ways to do this. Here are a couple of hints that I have discovered:
Dog Treat Icing
Because of the high sugar content in people Royal icing, I now use a Dog Treat Icing made especially for dogs.
The dog cookie icing mix that I now use, is sugarless, really easy to work with, and I find it economical for these cookies–because you only use a little bit on each dog cookie. The icing gets hard, and it doesn't fall off the cookies.
Dog Cookie Decorating Kit
You can use a spoon to drizzle icing onto the dog treats, but you'll have more control with a cookie decorating tool like the Wilton 415-0906 Dessert Decorator Plus which is easy to use, easy to clean and can be used over and over.
Even if you decide not to decorate them, put this dog treat recipe in your dog cookie recipes file and use the treats for everyday dog treats or puppy training treats. The smell of anise seeds in the oven will drive both you and your dog crazy!
These footballs are really cute, and you'll get a lot of compliments, if you serve them at a party. I know your dog will like them!
Ingredients for Super Bowl Dog Treat Cookies
1 cup water
1/4 cup olive oil
1 1/2 cups whole wheat flour
2 tablespoons organic soy flour
1 1/2 teaspoons dry baking yeast
1 tablespoon sugar (to feed the yeast)
1 1/2 cup unbleached flour
2 tablespoons wheat bran
1 teaspoon cinnamon
1 tablespoon anise seeds
Directions
Place everything (except the royal icing mix) in your bread machine.
Set the bread maker for the dough setting.
When the dough is ready, remove it from the bread machine, and divide it into 3 or 4 balls.
Roll each ball into a sheet that is ¼" thick.
Cut the little cookies with your football cookie cutter.
Place the dog cookies on a greased cookie sheet. or an ungreased silicone baking mat.
Let the footballs rise in a warm place for 45-60 minutes.
Bake the dog treats for 30-45 minutes at 275 degrees F or until they are light brown.
Turn off the oven and let the dog cookies dry for an additional several hours or overnight in the oven.
Decorate with Royal icing to make the lacings on the footballs.
I hope you are enjoying my dog cookie recipes. If you like this one, please try another. Once you get started–like me–I think you'll be hooked!
It's really fun to get creative with holiday dog cookie recipes. And dogs are Soooo appreciative!