(Psst: The FTC wants me to remind you that this website contains affiliate links. That means if you make a purchase from a link you click on, I might receive a small commission. This does not increase the price you'll pay for that item nor does it decrease the awesomeness of the item. Linda)
Now you can make dog bread treats that look like real Italian taralli. Step by step directions with photos make these homemade dog treats easy.
The easiest way to make these dog treats is to use a bread machine. However, if you don't have one or prefer to use your mixer, just use a bread hook with your mixer. You'll get great results, either way.
Taralli, or Italian twists, are actually Italian oil rolls (Panini All'olio).
When they are baked, the rolls have a great shiny appearance, and they are softer and less crisp-crusted than traditional "Hard Rolls". More like artisan bread.
My version, designed for the dogs, is intended to be a dog chew.
I use olive oil because it gives the rolls a true Italian flavor—and also because it is a healthy addition for your dog's coat.
Taralli Dog Bread Treats are a classy dog snack.
Here's another idea that will make these an extra special dog bread treat for your dog. Just after you roll the dough into a rectangle, brush it with butter and then sprinkle the dough with anise seeds . You don't have to crush them. Whole anise seeds will work just fine.
Dogs love the smell and taste of anise. And the smell of the baking Taralli dog bread (sprinkled with anise) will drive both of you crazy!
Enjoy the recipe for Italian Taralli gourmet dog treats. This one is going to make you feel like a professional Italian baker!
Ingredients for Taralli Dog Bread Treats
Place in bread maker or mixer with dough hook:
1 1/2 cups whole wheat flour
1 1/4 cups unbleached flour
1/4 cup cornmeal
2 T. wheat bran
2 T. organic soy flour
1 1/2 tsp. dry baking yeast
1 tsp. anise seeds
1 cup water
1/2 tsp. vanilla
1/4 cup olive oil
---
Set Aside:
2 T. melted butter
2 T. anise seeds
1 egg, beaten
Directions
Place the top group of ingredients in your bread maker on the dough cycle.
When the dough is finished, remove it from the bread maker and roll it with a rolling pin until it is about 1/4" thick.
Brush the dough with the melted butter and sprinkle it with anise seeds. Lightly press the seeds into the dough.
Cut the dough into strips that are 1" wide and about 8" long. You can vary the size of the strips if you want to make larger or smaller taralli dog bread treats.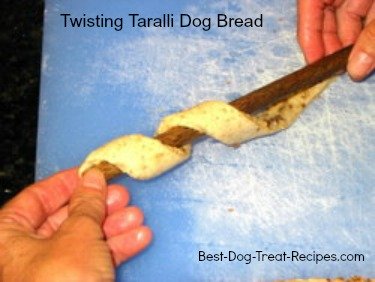 Twisting Taralli Dog Bread Treats
Holding a wooden spoon, turn the spoon while you wrap a strip of dough loosely around the handle.
Don't stretch the dough when you do this.
Slide the Taralli off the Spoon
Also, sometimes I spray the handle of the spoon with canola oil—if the dough sticks to the handle.
Push the twisted dough off the handle carefully.
Make Little Circles or Wreaths
Bring the ends together and form a "wreath". Pinch the ends together.
Carefully place the taralli dog bread wreaths on a lightly greased baking sheet.
I usually spray the cookie sheet with canola oil. Place the taralli 2″ apart on the sheet.
Apply the Topping and Bake
Brush the taralli with beaten egg and sprinkle with more anise seed.
Cover the taralli with a clean dish cloth and let them rise until they are doubled in size.
Bake the dog breads at 325 degrees F for 45-60 minutes or until they are nicely browned.
Turn off the oven and let them continue to dry in the oven overnight.
Store the taralli in an airtight container in the refrigerator or freezer.
The anise seeds in the taralli make this especially attractive to dogs, so I think your dog will really like this treat!
I called these Taralli, dog bread chews, because they last longer than a smaller dog treat. As with all chews, you will need to keep an eye on your dog until he finishes his taralli, especially if your dog has a tendency to gulp down his food.