(Psst: The FTC wants me to remind you that this website contains affiliate links. That means if you make a purchase from a link you click on, I might receive a small commission. This does not increase the price you'll pay for that item nor does it decrease the awesomeness of the item. Linda)
Gourmet dog treat recipes put you in the same league as the big gourmet dog bakeries. Have fun baking and decorating these gourmet dog treats, right in your own kitchen!
Of course there are many advantages to baking your own dog treats. Perhaps the most important advantage is that you know exactly what ingredients were used to make your dog's homemade dog treats.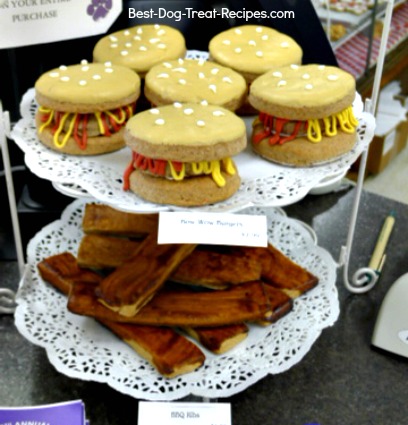 Things have certainly changed! A few years ago "gourmet" was strictly for people—and it was a bit snooty at that!
Now we are all eating gourmet food—and we share our prosperity with our canine friends!
Today we take care of our pets as never before!
We buy them special beds, special pens, clothing to protect them from the weather, toys to play with and—now—we treat them to gourmet dog treats!
Dog treat icing can turn a simple treat into a gourmet treat!
Homemade Gourmet Dog Treats
Your dog can feast on special dog breads, Italian dog treats, Danish pet treats, pastries, donuts, bagels, bacon strips, hamburgers, pizza–and just about any specialty snack that you can buy in a people bakery or restaurant!
Many of these gourmet dog treats actually look like people bakery items! I get the most satisfaction from making dog treats that LOOK difficult to make–and good enough for people to eat!
But the best thing about my gourmet dog treat recipes is that they have been created with your dog's health in mind. I would not give anything unhealthy to my dog, Skipper.
And I wouldn't recommend anything to you that I wouldn't give to Skipper!
Enjoy my gourmet treat recipes!