(Psst: The FTC wants me to remind you that this website contains affiliate links. That means if you make a purchase from a link you click on, I might receive a small commission. This does not increase the price you'll pay for that item nor does it decrease the awesomeness of the item. Linda)
Anise hypoallergenic dog treats will drive your dog crazy!
Anise is to dogs like catnip is to cats. Dogs love the smell and taste of anise seeds, and they are good for them, too!
If you have a dog with allergies, you know that your dog will need to have special dog biscuits. Dog treats that are wheat free and corn free, eliminating the two most common food allergies.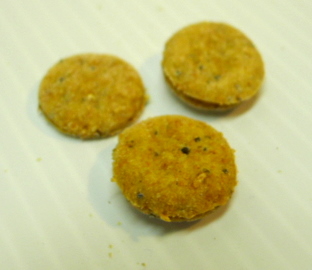 And the dog treat recipe contains healthy all natural ingredients that are good for your pet!
Did you ever consider that you can make allergy dog biscuits yourself?
Anise dog biscuits are easy, and they can be made in the bread maker or with your heavy duty mixer with a dough hook.!
Cut the treats into shapes with dog cookie cutters or just take a pizza wheel cutter or a 5 wheel pastry cutter and quickly cut them into little squares—if you are pressed for time!
I made the treats that you see in the photo, by using a bottle cap dipped in flour.
Anise hypoallergenic dog biscuits
are great as training treats, or as snacks.
Has your veterinarian ever taken the time to help you understand all the benefits of a good allergy free dog food for your allergic dog?
I don't know about you, but I want Skipper to be as healthy as she can—so that we'll have many happy years together!
Take the time now to discover several healthy dog foods for dogs with allergies that could make a HUGE difference to your dog.
Ingredients for Anise Hypoallergenic Dog Treats
1 cup water
1/4 cup vegetable oil, coconut oil, or olive oil
1 1/2 cups organic soy flour
1 1/2 cups rye flour
2 T. flax seeds or flaxseed meal
1 tsp. cinnamon
2T. anise seeds
1 1/2 tsp. non-aluminum baking powder
Directions
Place all ingredients in your bread maker or mix them with your mixer and a dough hook.
Divide the dough into several equal portions.
Flour a cutting board and roll each portion until you have a sheet of dough that is ¼" thick.
Cut your cookies in the shapes that you would like.
Place the dog treats on a greased cookie sheet. A silicone baking mat does not need to be greased, and your treats will not absorb any grease from the mat, as they do with a greased cookie sheet.
Bake at 275 degrees for about an hour. If you make small cookies, check them often to make sure that they don't get too dark.
Turn off your oven and let them dry overnight in the oven.
The anise dog biscuits smell and taste so good that your dog will be waiting by the oven to get the first one when they are baked.
Why not make them for your dog–for a nice, healthy change?