(Psst: The FTC wants me to remind you that this website contains affiliate links. That means if you make a purchase from a link you click on, I might receive a small commission. This does not increase the price you'll pay for that item nor does it decrease the awesomeness of the item. Linda)
Need a dog bone recipe for your dog with dog food allergies? Here's a hypoallergenic peanut butter dog treats recipe that is wheat free and yummy!
If you have a dog bone cookie cutter or two, these hypoallergenic dog treats are simple to make–and they are lots of fun!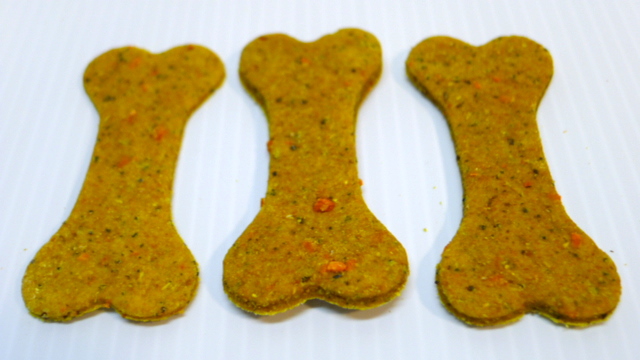 This is a homemade dog treats recipe that your pet with dog food allergies will love!
If you have found yourself looking for safe and healthy hypoallergenic dog food for your dog, you know that it's sometimes hard to find hypoallergenic dog treats that you trust.
Now you can make healthy gluten free dog bones, at home for your dog!
Make Pill Taking Fun!
Time for your dog's monthly heart-worm pill? Try placing ½ teaspoon of peanut butter (with the pill inside it) on the end of one of these homemade dog bones.
Your dog will be begging for another! And pill time will become a pleasure for both of you!
Ingredients for Hypoallergenic Peanut Butter Dog Treats
2 1/2 cups brown rice flour
1/2 cup organic soy flour
1 T. rice bran
1 tsp. non-aluminum baking powder
1 cup milk (or water)
1 T. blackstrap molasses
1/2 cup peanut butter
Directions
Preheat the oven to 300 degrees F
Mix the dry ingredients in a large bowl.
Mix the milk, peanut butter, molasses until smooth. You can use a mixer, blender or a whisk.
Add the liquids to the dry ingredients. Mix, using the dough hook on your mixer. Or, you can mix the ingredients and then knead them by hand. (Or, easiest of all, just put everything into your bread maker and let it do the work!)
Roll the dough out to ¼" thick. Cut into 3″ bone shapes with a dog bone cookie cutter.If you want to make larger bones, roll the dough to ½" thick. (Or, alternatively, you can use the little 1″ dog bone cookie cutter. In this case, roll the dough to 1/8″ thick.)
Bake the bones for 45-60 minutes for the larger bones (less cooking time for the 1″ bones) or until they are lightly browned.
Turn off the oven and let them finish drying overnight. They should be crisp and firm and not move when you press on them.
Hope you enjoy this hypoallergenic dog bone recipe!
These peanut butter homemade dog treat bones are packed with protein and will be a great snack to take along (for your dog) when you go hiking together!
If you, like me, want to keep your dog healthy without the use of harsh chemicals, you'll definitely want to read these two books:
Both books offer you natural and alternative solutions to dog allergy problems.
---
Dogs with allergies can benefit from healthy supplements. If your dog is suffering, consider giving him a little of this Boost Me Duck Freeze Dried topper for his dog food.