(Psst: The FTC wants me to remind you that this website contains affiliate links. That means if you make a purchase from a link you click on, I might receive a small commission. This does not increase the price you'll pay for that item nor does it decrease the awesomeness of the item. Linda)
These Christmas dog treats are simple to mix and bake, and they make great gifts for the dogs in your life.
The cute little mint flavored mini bones are made with applesauce, and, in addition to being tasty, the mint aids digestion and helps to control bad dog breath.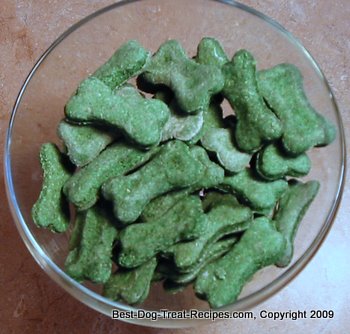 Ingredients for Apple Mint Christmas Dog Bones
1½ cups whole wheat flour
1 cup unbleached flour
1/2 cup old fashioned rolled oats
1/3 cup oat bran
2 tablespoons dry milk
1 ½ teaspoons dry baking yeast
2 tablespoons chopped spearmint leaves
1/2 cup applesauce
2 teaspoons green or red food coloring or spinach powder (to get the color desired)
7/8 cup water
Directions
With all of my recipes, you can use a heavy duty mixer with a dough hook. with a dough hook or a bread machine. I prefer the bread machine, as it's so much easier. If you use a mixer, simply adjust the directions for making bread with your mixer. Place everything in the bread machine on the dough cycle.
When the dough is ready, roll it to1/4" thick with a non-stick rolling pin.
Using a mini bone cookie cutter, cut the dough into mini dog bone shapes.
Bake at 250 degrees F for about an hour. Check to make sure that they don't get too brown.
Turn off the oven and let the mini dog bones dry completely in the oven—This works best overnight.
If you'd like to dress up your dog bones, why not try a little dog treat icing?
These Christmas dog treats will keep for several months, at room temperature, in your dog cookie jar, so you can make them well ahead of the holidays.