(Psst: The FTC wants me to remind you that this website contains affiliate links. That means if you make a purchase from a link you click on, I might receive a small commission. This does not increase the price you'll pay for that item nor does it decrease the awesomeness of the item. Linda)
Cheese Twists for dogs are made with cheddar cheese and bacon bits, and even though they are easy to make, they will make you look like a pro!
These yummy dog treats remind me of the penny pretzels you could find in drug stores and general stores when we were kids.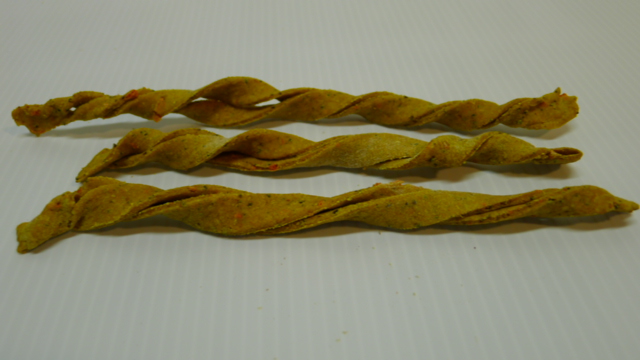 Just like those pretzels, Cheese Twists are crunchy, and will be almost addictive for your dog!
When you purchased one of those penny pretzels, you could easily break off a piece to munch on, and save some for later. You can do that with these cheese dog treats (for your dog), as well.
They have a nice cheesy flavor, with just the right amount of bacon bits (or use chopped up bacon, if you prefer). And healthy turmeric gives them a delightful yellow color!
Cheese Twists bakery dog treats have the same appeal that those penny pretzels did. They don't taste like a pretzel though. These gourmet dog treats have a lovely cheese smell and taste.
Remember—your dog has a stronger sense of smell than taste. You will notice that your dog smells everything first—before he gobbles it down.
Cheese Twists can be made with either soy bacon bits or real bacon bits. If you make your this homemade dog treat recipe with real bacon bits, make sure that you refrigerate or freeze them.
Ingredients for Cheese Twists for Dogs
1 cup water
1/4 cup olive oil
1 1/2 cups whole wheat flour
1 cup unbleached flour
1/2 cup organic cornmeal
1 1/2 tsp. dry baking yeast
3 T. Parmesan or cheddar cheese powder
2 T. real bacon bits or soy bacon bits
1 T. dry milk
1 T. turmeric
Directions
Place all the ingredients in your bread maker.
Set the bread maker for the dough cycle.
When the dough is ready, remove it and divide it into 3 portions.
Divide the dough into 24 pieces. You can vary the number of pieces, depending on how large you want the twisters to be.
Divide each ball or portion into 2 equal parts.
Roll each part into a long rope or stick.
Place the 2 sticks side by side, pinch the ends together.
Twist the 2 sticks and then place each twister carefully on a lightly greased baking sheet.
Bake the dog treats at 300 degrees F for about an hour. Check to make sure that they don't get too brown.
When they are done to your satisfaction, turn off the oven and let the dog treats continue to dry and harden for several hours or overnight. Or use your dehydrator to finish the job.
This bakery dog treat recipe yields 24 cheese twists, more or less, depending on how large you want them to be.