(Psst: The FTC wants me to remind you that this website contains affiliate links. That means if you make a purchase from a link you click on, I might receive a small commission. This does not increase the price you'll pay for that item nor does it decrease the awesomeness of the item. Linda)
Valentine dog cookies are easy to make and you can use a variety of cookie cutters to make cute Valentine dog treat shapes for your Best Friend!
Cute Valentine cookies for your dog will make the day special for him. Make sure you include your Best Friend when you are making treats for the valentines in your life!
Homemade holiday cookies are fun to make. They make great gifts too!
And, if you are feeling especially adventurous, you can decorate your dog valentine cookies with dog treat icing and a sprinkling of bacon bits or chopped peanuts.
This dog cookie recipe uses carob powder, which is a safe substitute for chocolate. Most dogs adore chocolate, but be aware that chocolate is toxic for dogs.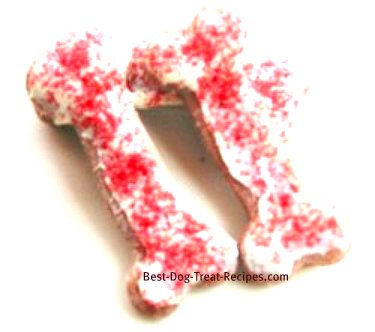 Carob, often used as a chocolate substitute, has a naturally sweet taste, and it is almost indistinguishable from chocolate.
And, best of all, dogs love carob, too!
Ingredients for Valentine Dog Cookies
The bran in these cookies, whether you use wheat or oat, is also very healthy for your dog. It gives him precious nutrients and healthy roughage, and it can help to lower cholesterol.
1 cup water
1/4 cup olive oil
1 1/2 cups whole wheat flour
1 cup unbleached all purpose flour
1/2 cup wheat bran or oat bran
1 1/2 teaspoons dry baking yeast
1/4 cup carob powder
Directions
Combine olive oil and water in a small bowl.
In another, larger bowl, mix together all the dry ingredients.
Using your mixer (with a cookie beater or bread hook), combine all the ingredients and mix until they are thoroughly combined. You will end up with a nice compact ball of dough.
Cover the mixing bowl with a clean dish towel or plastic wrap and set it in a warm place away from drafts.
Let the dough rise until it is doubled—it will actually be twice as big. You can tell that it has doubled when you gently punch a little hole in the dough and it doesn't bounce back. The hole, or indentation stays in place.
Roll the dough with a non-stick rolling pin (or a regular rolling pin sprinkled with flour) on a large cutting board that has been sprinkled with flour (or a pastry board) to a 1/4" thickness.
Cut the Valentine cookies into the shapes that you would like to use, using cookie cutters. If you look at the photos, I used three shapes: a heart cookie cutter, a dog bone cookie cutter, and a Cupid cookie cutter.
Place the dog cookies on a lightly greased cookie sheet or a silicone pastry mat.
Bake the holiday dog cookies at 275 degrees F for 1 hour. You may have to adjust the time (and check the cookies frequently), depending on the size of the dog cookies that you make.
Turn off the oven, and let the Valentine dog cookies finish drying overnight in the oven. They will be hard and crisp when they are done.
Decorating your Valentine Dog Cookies
If you use dog treat icing, you can sprinkle the top of your dog cookies with a little colored sugar, soy or bacon bits, chopped peanuts or other healthy dog treat ingredients.
Enjoy the recipe. Your dog is sure to love these Valentine cookies and you'll have fun making them to make her Valentine's Day special.
Make sure you look for my other holiday dog cookie recipes, and everyday dog treat recipes that can be adapted to make holiday cookies for your dog!