(Psst: The FTC wants me to remind you that this website contains affiliate links. That means if you make a purchase from a link you click on, I might receive a small commission. This does not increase the price you'll pay for that item nor does it decrease the awesomeness of the item. Linda)
Recipes for these homemade dog cookies are from my pet bakery, Natural Pet Bakery. I choose them because dogs love their flavors, they use healthy ingredients and they are easy to make!
If you do a little experimenting, you will discover which flavors your dog likes best, and which flavors are not to his liking.
Making dog cookies is fun and easy. It's a great way to spend time with your kids or grandchildren!
Personalize your dog treats occasionally by decorating them with dog treat icing and writing his name on the homemade dog treats.
In a hurry or short on time? I've found that using a dog treat biscuit mix can get the job done quickly.
Dog treat mixes are the easiest way I've found, to make dog treats! And I love them!
Choosing Recipes for Homemade Dog Cookies
There are a lot of ways to look at recipes for dog cookies. You can consider the difficulty of a recipe, the number of ingredients, the flavors, the shapes, the process and the special needs of your dog.
However, your dog will see it differently: good or not so good! So, in the end, you will have to do some taste testing with your dog. And that is half the fun!
Cookie Cutter Dog Cookies
Cookie cutter cookies are by far the most popular dog cookies, simply because you can make such cute shapes and, you can decorate them with icing. If you are considering giving your dog cookies as a gift, these are the most impressive dog treats, especially when packaged well.
Here are some favorite recipes to help you get you started…
Banana Bears
Bananas are a favorite treat for many dogs.  These yummy little Banana Bear Cookies capture the flavor of bananas and they can be dressed up with icing, as well.
Anise Seed Dogs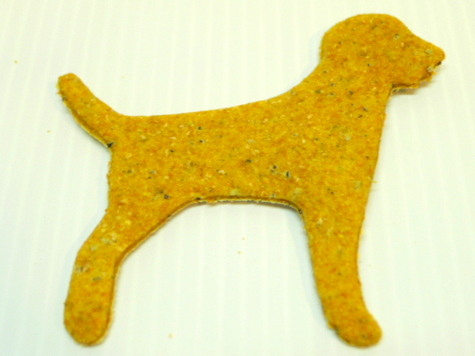 Anise seeds are a delicious flavor that both people and dogs love.
Personally, I just love Italian pizzelles, with their anise seeds.  Your dog will appreciate these dog cookies and the shape is perfect!
Carob Dog Cookies
Have you ever tasted carob?  It's very similar to chocolate, but, unlike chocolate, carob cookie cutter cookies are good for dogs (and for you, too).
Chicken Chompers
Chicken flavored dog treats to temp your chicken loving pet!
If you'd like, you can even add small shreds of leftover chicken to make these dog cookies even more appetizing.
Fire Hydrant Cookies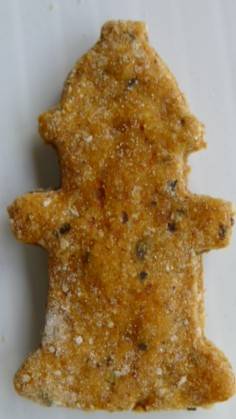 Fire Hydrant dog cookies are especially appropriate for the males in the group.
The ladies, of course, are more discreet about where they pee!  Great gift idea for your dog's friends.
Smiley Face Cookies
These Smiley Face dog cookies are fun to make, especially if you have a kid or two who likes to cut them out and then make the faces.
Your dog will love them, as well, when they come out of the oven.
Drop or Spritz Cookies
Perhaps the easiest of all dog cookies, drop cookies are simply dropped onto the prepared baking sheet, just like the familiar chocolate chip cookies that you have probably made many times.
On the other hand, don't rule out spritz cookies because they look too hard. Spritz cookies are the kind that you load to a tube and then squeeze onto the cookie sheet. They are easy and fun, as well.
Carob Chip Drop Cookies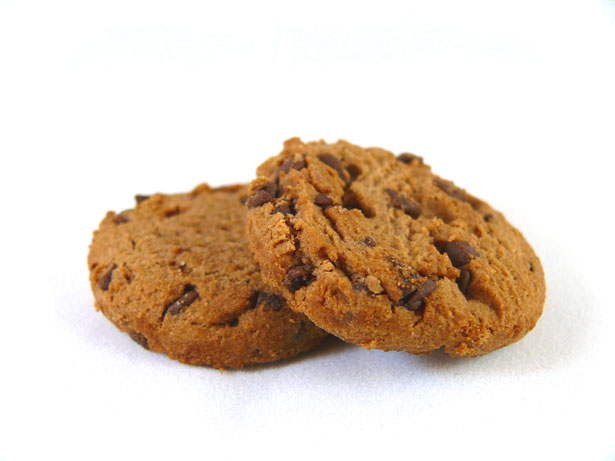 Carob Chip Drop Cookies are just like chocolate chip cookies, except that you use unsweetened carob chips instead of the chocolate chips.
Skip the walnuts, as well, as they can be harmful to your dog.
Bacon Cheese Spritz Cookies
Bacon Cheese Spritz Cookies use bacon bits, but you could also use small bits of bacon that you have cooked and chopped.
When you get the hang of using the spritz cookie press, these are really easy!
These are fun and you can make a lot of different shapes.
Cookies with your Dog's Favorite Flavor
Just like you, dogs tend to have favorite flavors in their food. If you know what your dog likes best, you can just make that kind of treat.
However, if you are not sure, it will be fun to try different recipes to see which ones become your dog's new favorite dog cookies or treats!
Here are a few to help you get started. If you don't find your dog's favorite flavor, do a search and you might just find it somewhere else on my website.
Carob Dog Cookies
Carob is a favorite for many dogs.
There are several recipes for carob dog cookies on my website, and you can find them by following the link below.
Pumpkin Dog Treats
Pumpkin Dog Treats – There are quite a few recipes for pumpkin dog cookies and treats on my site with pumpkin as an ingredient.
Pumpkin is another favorite treat for dogs.
Peanut Oat Cookies
Easy as pie (actually easier), these peanut oat drop cookies have some good nutrition packed into them.
And, any peanut or peanut butter lover is sure to find them interesting.
Homemade Dog Cookies for Special Needs Dogs
Of course your dog may have special dietary needs. We don't want to forget dogs who are getting older, dogs who have medical issues or dogs who are simply fussy eaters!
These recipes are just a beginning.
Dogs with Allergies
Many dogs, like Bichon Frises and Bichon mixes have dog food allergies.
If you have a dog with allergies, you might want to consider making hypoallergenic dog treats for your dog.
Diabetic Dogs
If your dog is diabetic, it can be hard to find dog cookie recipes for him.
You'll need to consider the level of carbohydrates and fats in each recipe that you use.
Vegetarian Dogs
If your dog is vegetarian, you'll need to stay away from dog treat recipes that include meats or meat broths or bouillons.
Try to include healthy vegetables or other ingredients to increase the nutritional value of your dog's treats.
This is just a start. There are many more homemade dog cookies recipes on my site. Enjoy the recipes! And let me know how you make out…