(Psst: The FTC wants me to remind you that this website contains affiliate links. That means if you make a purchase from a link you click on, I might receive a small commission. This does not increase the price you'll pay for that item nor does it decrease the awesomeness of the item. Linda)
Banana dog bread, shaped into little braids is a popular all natural dog treat that your dog is sure to love, especially if she is a banana lover!
Real bananas give this dog bread its aroma and flavor, and banana chips can add crunchy texture and even more flavor, if desired.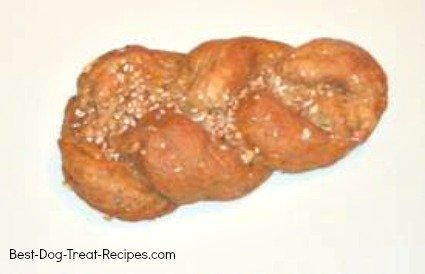 Real bananas give this dog bread its aroma and flavor, and banana chips can add crunchy texture and even more flavor, if desired.
What dog doesn't love bananas? And these little banana dog treats are full of bananas and whole grain goodness.
The little home-made dog treats have a pleasant light banana taste. And these dog homemade treats look and smell so good, that you will find yourself hiding this dog gourmet treat from the people in your family!
And, by the way, the banana braid dog bread is safe for people to eat, too! That's why I know how they taste.
The braids in Banana Dog Bread make these home-made dog treats
look like they came from a specialty people bakery!
About Banana Dog Bread Treats
The basic Banana Braids dog treat recipe is fine by itself. However, you can make the treats fancier by brushing the tops of the braids with egg and sprinkling crushed banana chips, chopped peanuts, bulgur, sesame seeds or poppy seeds on top just before baking.
Because I like to keep everything easy, I designed this bread as one of the gourmet dog treat recipes to be made in your bread maker. If you don't have one, you can use a mixer with a bread dough hook instead.
These easy homemade dog treats are considered to be chews, and, as such they will have a higher moisture content than some dog treats.
Couple that with natural ingredients that contain no preservatives, and you should probably store the unused treats in the refrigerator or the freezer, so that they stay fresh.
Ingredients for Banana Dog Bread Treats
1 cup water
1/4 cup olive oil
1/2 tsp. vanilla
1 banana
1 cup unbleached white flour
1 1/2 cups whole wheat flour
1/2 cup cornmeal
2 T. wheat bran
1 T. raw sugar
1 1/2 tsp. dry baking yeast
1 T. poppy seeds or sesame seeds
1 tsp. cinnamon
Directions
Place everything in your bread maker in the order suggested by the manufacturer.
Set the bread maker for the dough cycle.
When the dough is ready, remove it from the bread maker.
Divide the dough into 24 equal parts. I just usually use a sharp knife to cut it into equal sized chunks.
Sprinkle flour onto a large cutting board.
Using both hands, roll each dough ball into a rope that measures between 5" and 6" long.
Take 3 ropes and seal the 3 ropes together at one end. Press hard to make sure that they stay together. Place them on a lightly greased baking sheet.
Braid the 3 ropes together, the same way that you would braid a little girl's hair. Do this by taking the outside right, then the outside left rope and alternately placing each over the middle rope. Continue until you get to the end.
Seal the ends together and fold this end underneath also.
Brush the top with a beaten egg and 1 T water. This will make it shiny and it will look quite professional when it comes out of the oven.
If you want to sprinkle one of the toppings that I discussed above on your braids, this is when you do that.
Bake the Banana Braids in the oven for 60 minutes at 300 degrees F. Check occasionally to make sure that they are not getting too browned.
When they are a nice golden brown, and you hear a hollow sound when you tap on top of the dog breads, turn off the oven. Leave the braids in the oven overnight so that they can continue to dry nicely. Drying your dog chews in a dehydrator will get them extra dry.